---
"Everyone talks about the weather,
but nobody does anything about it."

Points to Ponder:
Chemtrail image with text for hard copy prints.
I have used a simple chemtrail poster for some time but this approach has been used since 2004 and has been very useful with good reactions from people.

March 2007: I have updated the image and made it more economical by printing two images on one sheet!

The image below is intended to be saved locally to your hard drive and/or USB memory stick etc. To do this you place the mouse over the image and right click for some options to appear. One option will be on the lines of Save Image As...

So save it accordingly and then take the portable media to your local digital photograph outlet. I use Wal-Mart where (at this date) for about 19¢ a copy for regular 4x6 prints on good quality paper they can be made using the self-serve units. The equipment accepts any type of portable media.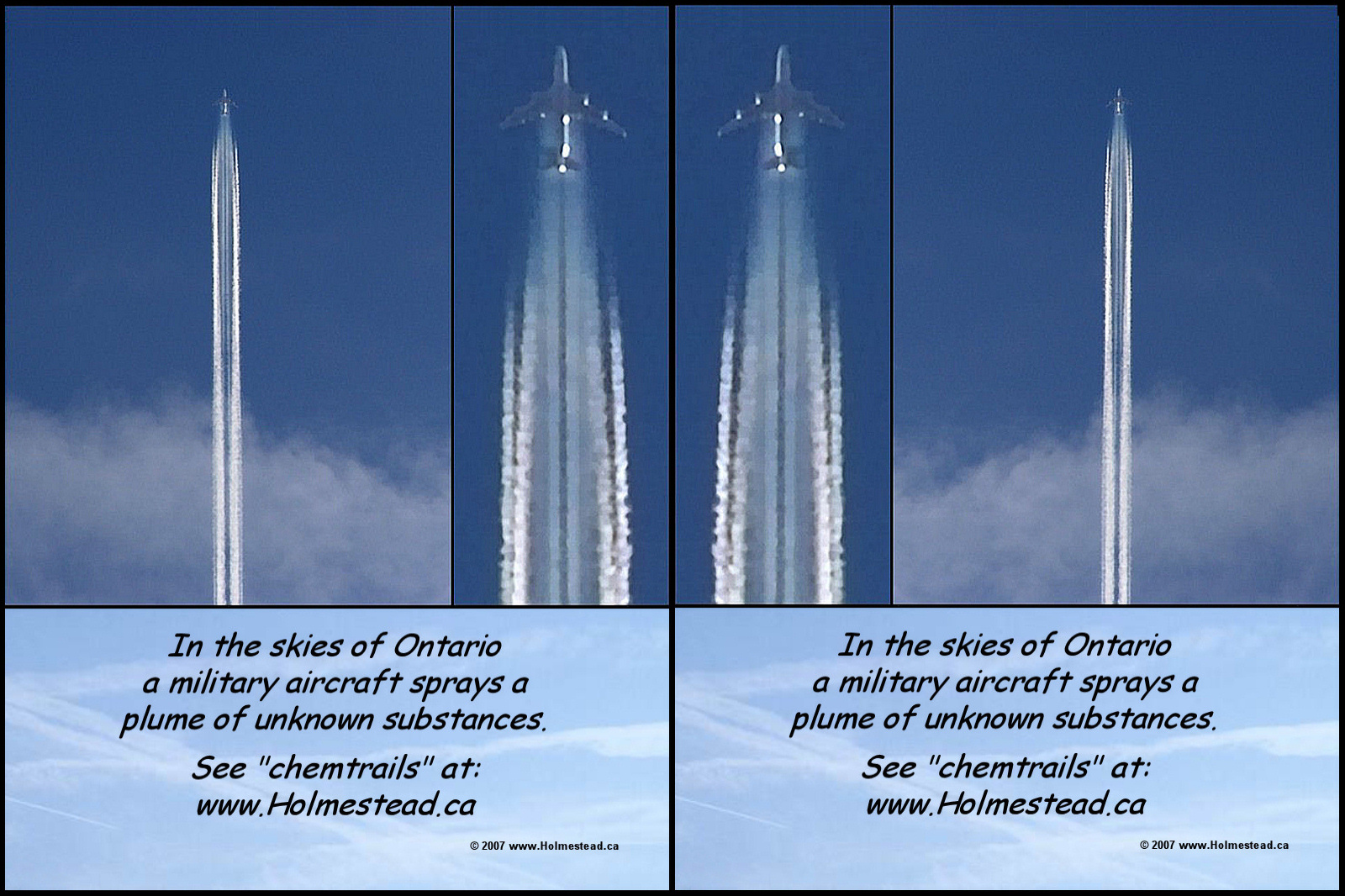 The file size is fairly large as you may have noticed if you are on dialup. It is actually three times the pixel size you see above and is about 670 KB. But will still fit any portable media.

The image is large to ensure good print quality. The self-serve digital print units automatically resize the image to the 4x6 inch print size selected.

Of course, if you wish you can print your own but it may be more economical to have any quantity printed commercially. How many? Start with a few dozen - and that is doubled when you have used a trimmer to cut them in half to the convenient "vest pocket" size.

Hand them out on a personal level whenever the opportunity arises and stick them on bulletin boards or public notice boards in the supermarket or wherever. It may be easier to find a small space than an area for a page size sheet.

A skywatcher's calling card!
You are invited to contact us at the "Holmestead".
---
---