---
"Everyone talks about the weather,
but nobody does anything about it."

A Petition that was presented to the Canadian House of Commons
regarding high altitude aerial spraying - that is, chemtrails.
Obviously it is no longer active!
Active January 2013 and open until 15 May 2013 - see more details below!
Update 24 October 2013:
Finally the Petition was presented to Parliament on 21 October 2013 by NDP MP Alex Atamanenko of the riding of British Columbia Southern Interior. We are very grateful to Mr. Atamanenko for doing this as certain other MPs declined or even totally ignored our approaches. Plus it has been a pleasure to deal with the wonderful, helpful ladies in his Ottawa and Riding offices - a special thank you to Jennifer and Gina!

Close to 3,500 petitioners from coast to coast signed in both English and French versions. It made for a hefty bundle! Here is the text of the presentation as recorded in Hansard, the official record of House of Commons proceedings: Hansard record:

Mr. Speaker, I have well over 1,000 names of petitioners from the Slocan Valley, Grand Forks and Nelson in my riding as well as other parts of B.C., Ontario, Manitoba, Quebec and Alberta, who are concerned about what they call aerial spraying or chemtrails. They say that aerial spraying is being carried out by aerial entities at high altitudes that create long-lasting plumes. They do not act as traditional aircraft condensation trails. This is being carried out without the knowledge of the people of Canada.
The petitioners call upon the government to fully inform the people of Canada about this aerial activity occurring at high skies and to explain why it is taking place and also to cease this activity forthwith.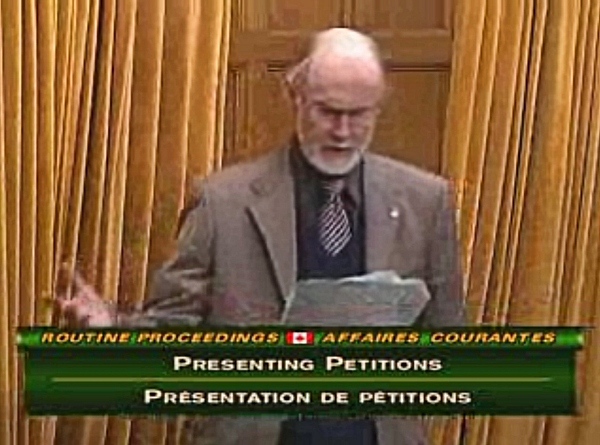 In addition here is the video from the parliament video service of Mr Atamanenko making the presentation. Less than a minute on YouTube: YouTube.

The Government now has 45 calendar days to respond. A petition changes nothing unless the Government acts so we shall see what is offered...


Update 28 December 2013:

Finally the government response arrived - and much as anticipated it was the usual tired old evasions... with the core of the response being that we are seeing regular aircraft condensation trails.

The text of the petition prayer was clear enough in that only some of these plumes are being seen by observers as chemtrails: ...this aerial spraying is being carried out by aerial entities at high altitude that create long lasting plumes that do not act as traditional aircraft condensation trails...

Three Ministers contributed to the response: Environment, Health and Transport. For the full text of their responses please click on the image below.